On June 28, 1942, a reconnaissance party of three men left Efate to find an airfield site further north and within flying distance of Guadalcanal. Espiritu Santo was chosen and on July 8, a party of Seabees from Efate arrived on Santo with a Marine anti-aircraft battery and a company of infantrymen to begin work on Turtle Bay airfield.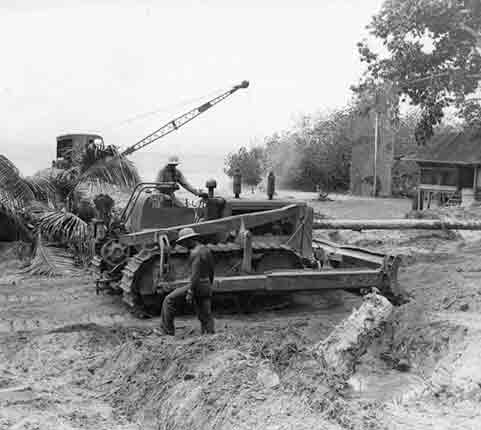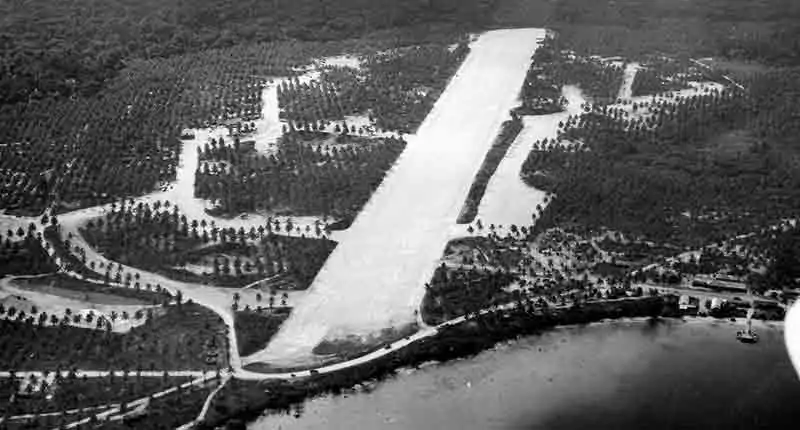 The Seabees were given just twenty days in which to construct a 6000 foot (1829 metre) runway that had to be cut through the jungle, cleared, levelled and surfaced with coral. However, heavy grading equipment was not available and they had to make out with six tractors, two scrapers, one grease truck, one petrol wagon, three weapons carriers, and a generator. Assisting them were 90 Marines, 295 infantrymen and 50 Ni-Vanuatans who worked day and night, in the race against time.
On July 28, the first fighter squadron landed and was followed the next day by a squadron of B-17's. The aircraft were fuelled from drums and on July 30, the B-17s with fighter escort, heavily bombed the Japanese on Guadalcanal.
The heavy bombing paved the way for US troops to storm the island shortly thereafter. Santo went on to provide vital support for the Marine landing on Guadalcanal on August 7. Santo subsequently became a major South Pacific base for the support of air activities throughout the year-long campaign for possession of the Solomon Islands.
On August 11, 1942, the 7th Battalion arrived and immediately began construction of more extensive air facilities to support the Guadalcanal campaign. In sixty days, they completed a second fighter strip, 4500 feet (1371 metres) by 170 feet (52 metres), with 7500 feet (2286 metres) of taxiways and 60 revetments. With fighter facilities complete, the Seabees turned their attention to bomber facilities.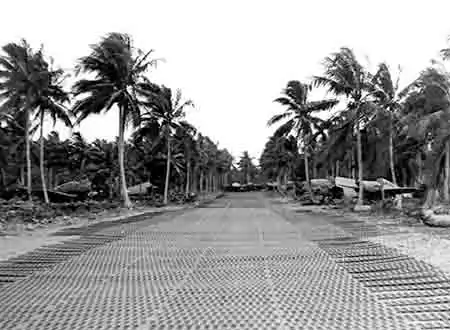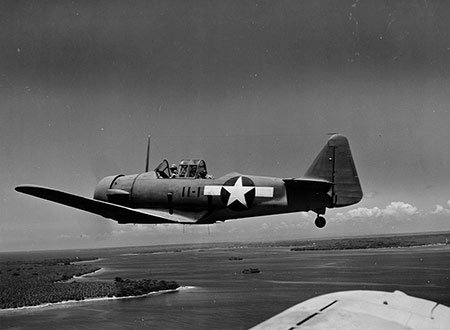 With the Turtle Bay fighter base up and running as a quasi-bomber base on Santo, the US military turned their attention to the construction of dedicated bomber fields. While bombers were coming and going from Turtle Bay, the forthcoming invasion of the Solomon Islands would require far greater facilities than one small airfield could offer.
It was decided that three bomber bases would be built on Santo. The bases would be capable of supporting heavy bombers, fighters and two carrier groups. In addition, they would also provide large stores of ammunition, provisions and equipment to support large scale offensive operations as well as repair and salvage.
Pallikulo Bay Airfield (Bomber Field No. 1)
Following the completion of the second fighter strip at Turtle Bay, the 7th Battalion constructed a runway, 5000 feet (1524 metres) by 150 feet (46 metres), of Marsden Matting on an 8 inch (20 centimetre) coral base at Pallikulo Bay. The airfield became known as Bomber Field No. 1.
When the 15th Battalion reached Espiritu Santo on October 13, 1942, they were assigned the complete overhaul of the grading and drainage of Bomber Field No. 1 and added taxiways, revetments, and a 1,000 foot (305 metre) extension for air transport operations.
Pekoa Airfield (Bomber Field No. 2)
Construction of Bomber Field No. 2 at Pekoa was begun by the 7th Battalion. This was also taken over by the 15th, who completed the construction of a 7,000 foot (2133 metre) runway, composed of the standard Marsden Matting over coral, and built taxiways, revetments, and other bomber support structures in and around the airfield.
In addition to the construction of the runway and taxiways, extensive construction was undertaken to support hospitals including 100 quonset huts, warehouses, quarters, wards, laboratories, surgeries and other medical facilities, which were vital following the Guadalcanal campaign in late 1942.
Luganville Airfield (Bomber Field No. 3)
With Santo becoming such a vital staging point for bomber operations in the South West Pacific, the 40th Battalion were tasked with constructing a third bomber field at Luganville.
A runway, 6,800 feet (2073 metres) by 300 feet (91 metres), with 27,000 feet (8229 metres) of taxiway and 75 hardstands was cut out of dense jungle and incredibly, was completed in 120 days. Nearly 25% of the runway was in solid-coral cut, ranging from a few feet (a metre) to 35 feet (10 metres) in depth; 3,000 feet (914 metres) of taxiway and six hardstands were also in solid coral cuts averaging 10 feet (3 metres). Coral for surfacing and necessary fill was obtained from the cuts and pits. Due to heavy rainfall on Santo, the surface of the coral was also treated with an emulsified asphalt binder, to prevent it from being washed away.
In addition to the runways and taxiways, a tank farm of six 1,000-barrel steel tanks, two truck-loading stations, two repair areas, fifteen 40 by 10 foot (40 by 3 metre) arch-rib warehouses, one 100 by 90 foot (30 by 27 metre) hangar, eighteen 20 by 48 foot (6 by 14 metre) quonset huts for living quarters and six mess halls were also constructed. 15 miles (24 kilometres) of two-lane road was also cut through dense jungle to allow for access to and from operations at the airfield.
The 36th Battalion arrived at Santo on February 10, 1943. A detachment was sent to Pallikulo Bay to build a pontoon wharf consisting of four 6 by 18 foot pontoon barge sections hinged together and connected to a steel cofferdam by eight 72 foot (22 metre) bridge sections. There was a minimum of 33 feet (10 metres) of water at the end of the pier.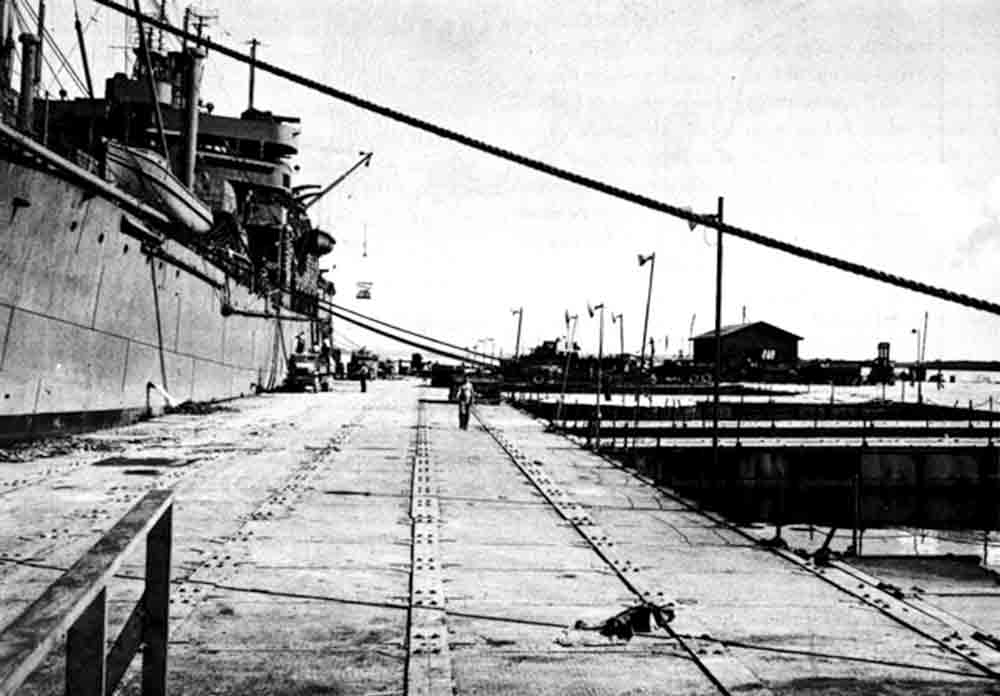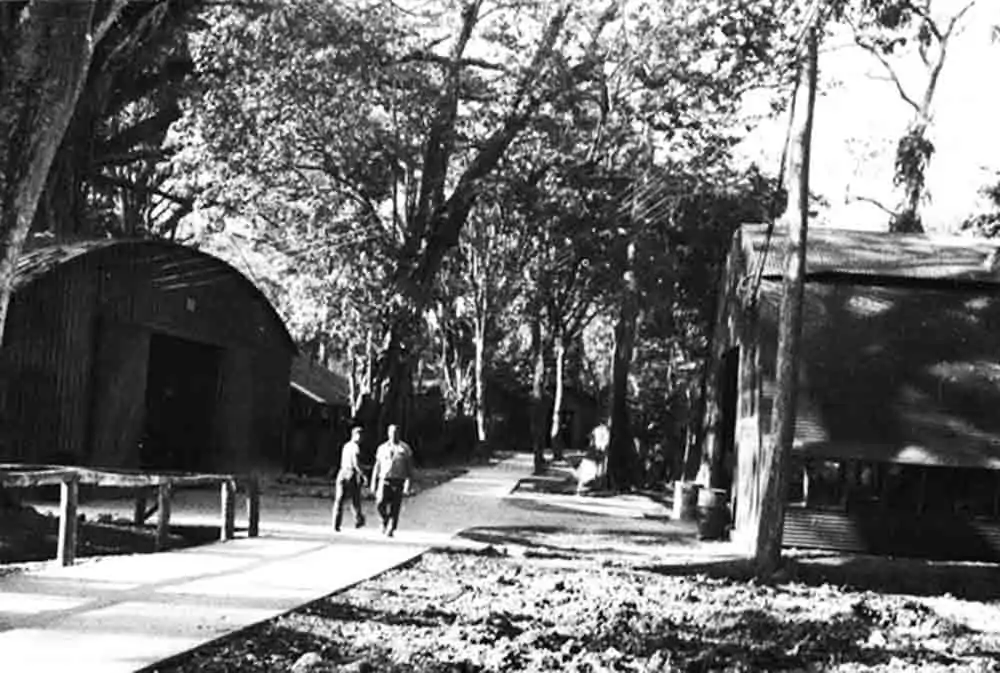 Engine Overhaul Facilities
Following the completion of the pontoon wharf, the 36th Battalion was tasked with the construction of an aviation engine overhaul base. Begun in February the project was completed in June and involved the construction of 85 quonset huts for housing officers and enlisted men, 18 standard 40 by 100 foot (12 by 30 metre) arch-rib shop buildings, messing facilities, four quonset huts on concrete slabs for offices and instrument shops, and all the necessary utilities for the overhaul of 200 aviation engines per month.
In March 1943, the 57th Battalion that had recently arrived in Santo set about building a seven-acre ammunition dump and ordnance facility and rebuilding a portion of the 7,000 foot (2133 metre) airstrip at Luganville Bomber Field No. 3. Due to the heavy workload and inclement weather at the time, the airstrip had become unstable and in need of urgent repair.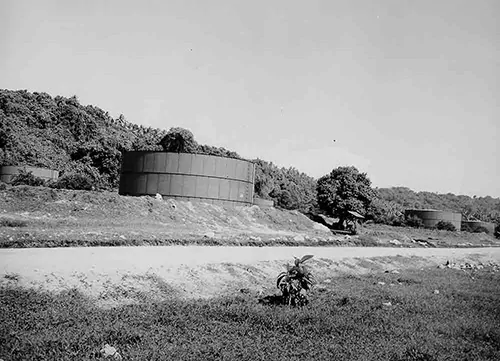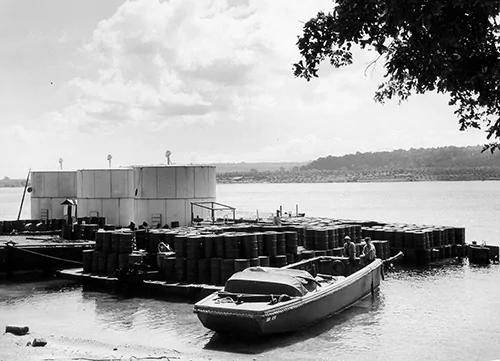 On Aore Island, the battalion erected quonset huts for housing, 30 magazines for mine storage, and other installations for the mine-assembly, target-repair, and mine-recovery plants. They also constructed fifty 10,000-barrel bolted tanks for fuel storage, 25,000 feet (7620 metres) of 12 inch (30 centimetre) spiral pipe, and 50 pump units. Other oil facilities included seventeen 1,000 barrel tanks for motor gas storage, two 10,000 barrel tanks for diesel storage, and twenty three 1,000 barrel tanks for aviation gasoline.
Major bases, such as those at New Caledonia and on Santo, were not involved in the extensive roll-up activities of the South Pacific area in 1944, as these bases were expected to be utilised in staging the increased forces to be used in the Pacific. After a long and distinguished role in the defence of the South West Pacific, the naval base on Santo was disbanded on June 12, 1946.
As a footnote, Vanuatu was attacked only a handful of times by a Japanese aircraft and its pilot 'washing machine Charlie'. The attacks resulted in just one death on Santo – Bossy the cow who went our grazing during the blackout.
Your contribution will help us create a lasting legacy for the people of Vanuatu.