Show your support for the Museum
Membership of the Museum is a generous way for you to show your support and assist us in moving the project forward. As a Museum Member you will be the first to hear about new discoveries made by the museum, get the chance to view exclusive content, enjoy discounts on special events at the Museum and much more as the project proceeds and the Museum is opened.
Over time as the Museum continues to expand, we will be developing a dedicated Members area on the website where we'll keep members up to date with exclusive exhibitions and events taking place on Santo and in other parts of the world, offer discounts on Museum tickets and special offers through our Museum shop and restaurants.
Presently we're offering our members the following benefits:
Subscription to regular communications published by the Museum.
Publication as a donor and supporter.
An opportunity to be a part of history in the South Pacific.
Help provide ongoing educational opportunities to local schools.
A Special Offer To New Members
If you're one of the first 500 members to join the Museum, we'd like to offer you a very special opportunity. In return for your generosity, we'll include your name on a commemorative plaque that will hang in the Museum once construction is complete. Membership to the the Museum also makes a wonderful gift for a family member or loved one, whose name you'd like to add to the Museum as a lasting memory for choosing to get behind us.
Membership is open to anyone who has an interest in helping to protect and preserve the WWII history of Santo, Vanuatu and the South Pacific region. Prior to construction commencing, the funds from your membership will go towards our seed funding program that enables us to keep our Project Office and mini museum in Luganville open. It also aids in our fundraising efforts to get the Museum constructed through the Elwood J Euart Association, the official charity organisation behind the Museum. Not only will you become a member of the Museum, but the Association behind it as well. To become a member, just fill in the form below. Membership payment details can be found below the form.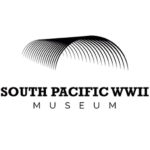 Membership Application Form
Membership payment or renewal
Annual Membership is charged in USD or VUV currency ($100USD or 10,000VT). Currently you have three options for making payment. PayPal is available from this website, which also provides you with the opportunity to use your credit card. Alternatively, you can make payment by cheque (Vanuatu banks only) or international bank draft. If you'd like to make your membership payment by cheque via a local Vanuatu bank, please make it payable to the Elwood J Euart Association and mail it to:
PO Box 850
Luganville,
Espiritu Santo
Vanuatu
If an international bank draft is more convenient, we'll email you with our banking details upon receipt of your membership application. Once we have received both your application form and payment, we'll activate your membership with the Museum.
If you would like to make your payment now, you can pay by credit card or via PayPal. Either way, simply click this button which will take you through to a payment page. The payment itself is managed by PayPal, but when you click the credit card button your payment will be made by the card of your choice.
Thank you for your support.