Of all the remarkable naval vessels to find a home in the waters surrounding Espiritu Santo during World War II, none came close to the complexity and sheer size of the floating dry dock, USS ABSD-1. This incredible piece of marine engineering infrastructure was more than big – it was gargantuan. In fact its overall area was almost equal in size to that of 18 Olympic swimming pools! But what was something that large doing in Espiritu Santo, and how did it get there in the first place?
With Espiritu Santo established as the largest naval base outside Hawaii, its role as a giant Pacific Theatre maintenance and repair workshop saw it repair everything from the smallest tenders to the largest battleships. While the majority of repairs were undertaken while the ships were tied up in port, major repairs, maintenance and refits could only be done when ships were out of the water – in dry dock. Transiting back to Hawaii or the United States was impractical, hazardous and quite simply out of the question during wartime. And if emergency repairs were required, the repair crews based on Santo just had to make do. That was until ABSD-1 and two smaller floating dry docks arrived in Vanuatu – the former moored in Palikulo Bay, the latter in Segond Channel, just off Aore Island.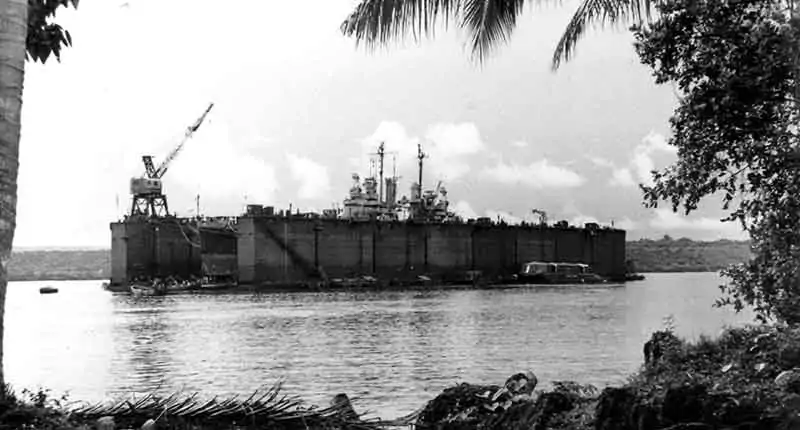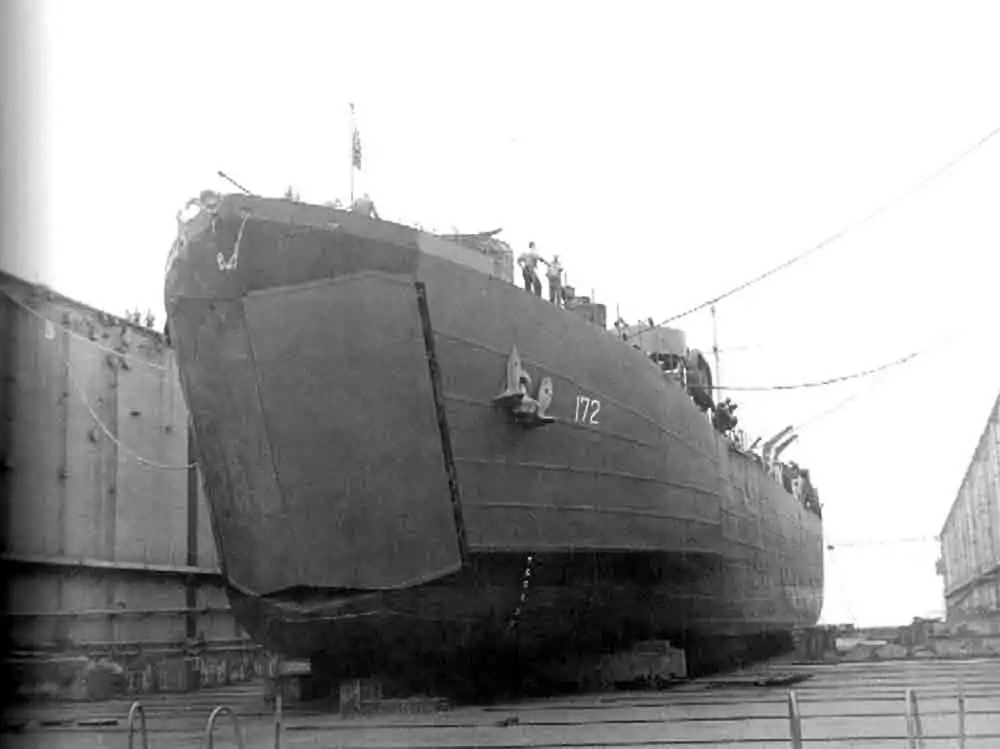 To meet the requirements of the Navy, it was decided that two sizes of docks would be constructed. The largest of these was designed for carriers, battleships and the larger auxiliary ships. Made up of 10 sections, each was 256 feet (78m) long and 80 feet (24.3m) wide and each having a nominal lifting capacity of 10,000 tons. When the ten sections were welded together side-by-side, with 50-foot (15.2m) outrigger platforms at either end, the completed dry dock was an incredible 927 feet (282.5m) long and 256 feet (78m) wide. That provided the dock with an effective length of 827 feet (252m), a clear width inside the wing walls of 133 feet (40.5m) and a lifting capacity of an enormous 90,000 tons.
The smaller of the dry docks was made up of seven sections. Each section was 240 feet (73m) long and 101 feet (30.7m) wide , with a lifting capacity of 8,000 tons. When assembled, the entire dock was 825 feet (251.4m) long and 240 feet (73m) wide. It had an effective length of 725 feet (221m) and a clear width inside the wing walls of 120 feet (36.5m). It's combined lifting capacity was 55,000 tons.
The wing walls were generally constructed in an upright position to make the construction process as time efficient as possible. However prior to towing at sea, the wing walls which were anchored by a series of hinges, were lowered into a horizontal position. Towing the sections in this manner to their final destination for final welding, reduced wind resistance and lowered the centre of gravity. The sections which were faired fore and aft and shaped to resemble that of a ship's hull, enabled them be towed at six to eight knots without requiring excessive power. Once final welding and assembly had taken place, the flatter than normal bows and sterns created berths to which support vessels could be moored.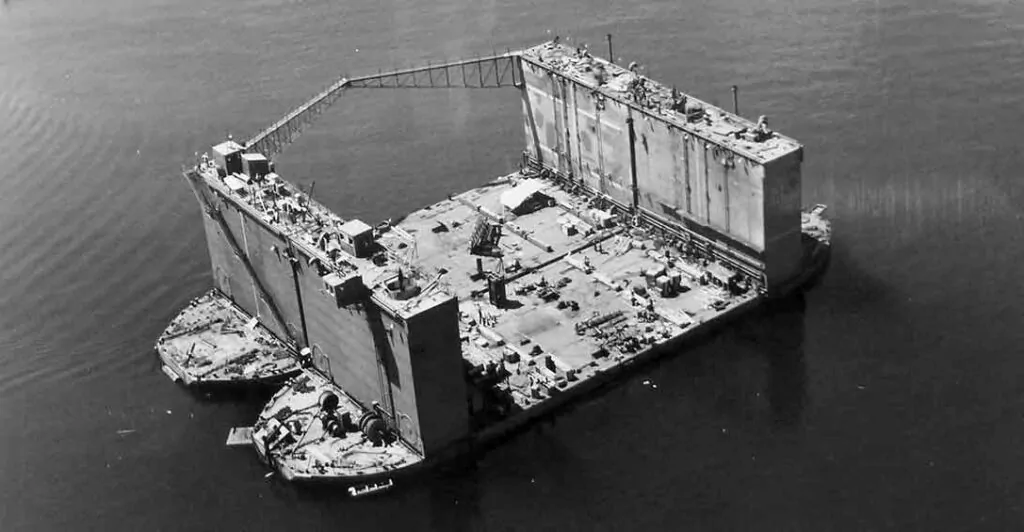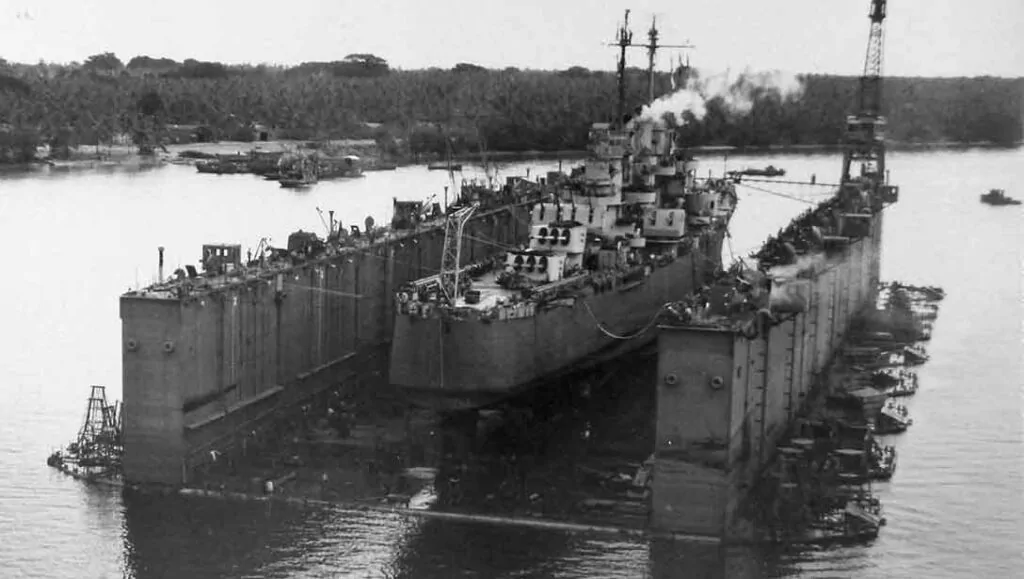 Each section was fitted with two 525 horsepower diesel engines connected to 350 kilowatt generators. Attached to the generators were the pumps, evaporators, compressors, as well as heating and ventilating equipment required to support dry dock operations. However, no propulsion was fitted to the sections. Movement was facilitated by tugs and other support vessels.
Following alignment, heavy steel plates were welded in position from one section to another across the top and bottom joints and the inside and outside faces of the wing walls. Once welded together the assembled dry dock had an incredible integral strength with a 'moment of resistance' of about 500,000 foot-tons, which was approximately a quarter of the largest vessel to be docked.
The location of the ABSD-1 dry dock in Santo was critical to its successful operation. The large dock required at least 80 feet (24.3m) of depth for effective use – hence why it was positioned in the relatively deep waters of Palikulo Bay. And to ensure it would resist tidal movement and the seasonal threat of cyclone activity, it was secured by 32 fifteen-ton anchors, 14 on either side and two at either end, attached with 900 feet (274.3m) of chain.
The wing walls themselves were enormous. Some 55 feet (16.7m) high and 20 feet (6m) wide, they were subdivided by a safety deck 14 feet (4.2m) below the top deck. This created a series of dry compartments above and three large ballast compartments below. The upper, dry compartments were put to good use as workshops, storage, and other areas to support dry dock operations.
Upon arrival at the advance base where they were to be placed in service, the wing walls were raised again to their normal position. Once in the vertical position, the wing walls were bolted to the pontoon around their entire perimeter, and everything was made watertight.
Which is exactly what happened in Palikulo Bay in late 1943.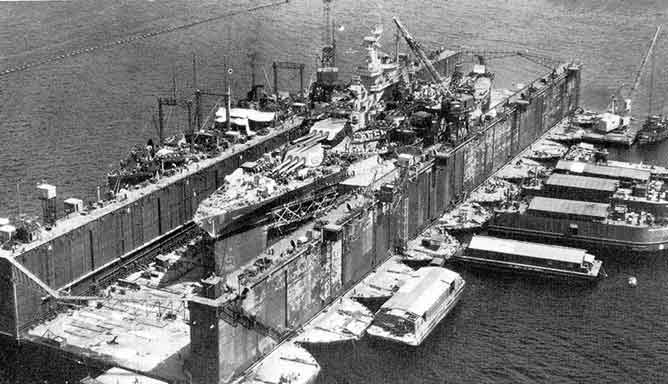 ABSD-1 was commissioned on 10 May 1943 at Everett, Washington with Captain Andrew R. Mack in command. Of course the massive dry dock was far from being operational. The next, and perhaps the most perilous stage of its introduction into active service was to transport it from the United States to Vanuatu.
The two sections constructed on the Gulf Coast departed Morgan City, Louisiana on July 14 1943, and arrived on September 24. The remaining eight sections left San Francisco, California, on August 28 1943, before arriving around a week later on October 24.
Assembly got underway later that month, but it wasn't long before disaster struck and on November 2, one of the sections sank during construction and 13 crew lost their lives. However towards the end of 1943, eight of the ten sections had been successfully assembled and ABSD-1 and her crew of 690 officers and sailors commenced repairs on a variety of ships in the fleet. By April 1944, the final two sections were added to ABSD-1 completing the 10 section dry dock – all 927 feet of her.
Topside, each dock was equipped with two jib cranes with a lifting capacity of 15 tons and a radius of 85 feet (26m). The cranes travelled on rails fitted to the top deck of the wing walls. On the smaller docks, the cranes were set back from the inner face of the wing walls to provide clearance for overhanging superstructures of aircraft carriers.
ABSD-1 served in the waters of Santo until mid-April 1945 repairing an enormous variety of ships including the battleships Idaho and California, the USS Cleveland and USS Columbia – both light cruisers, along with a range of landing ships, gunboats and cargo vessels.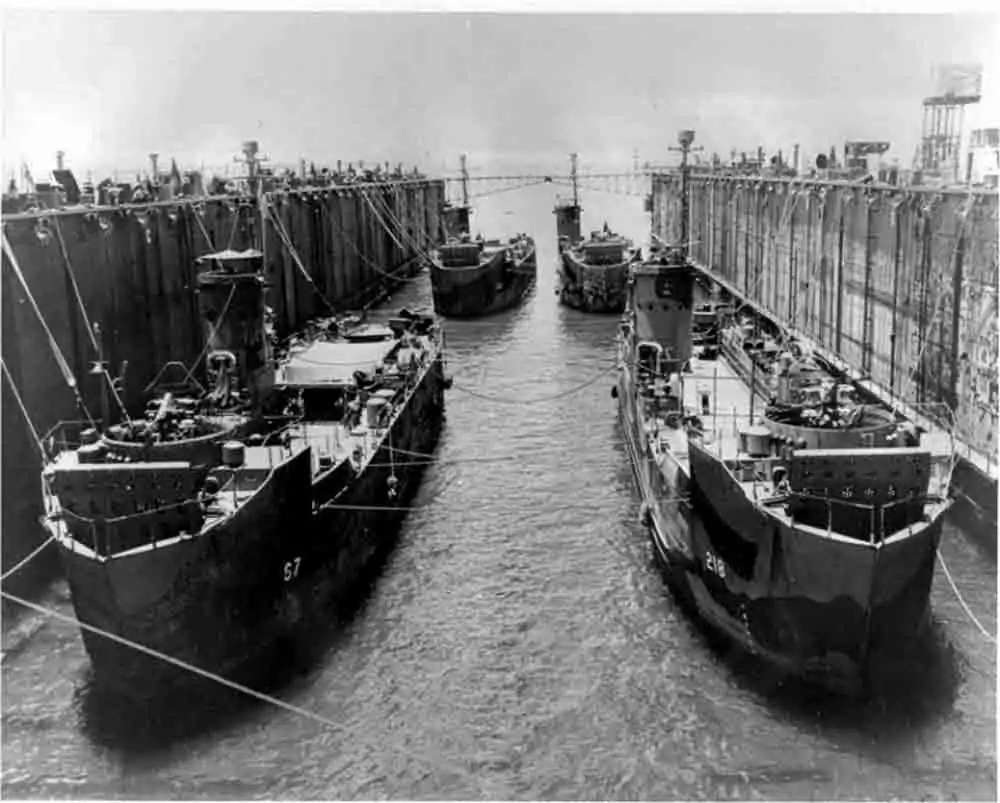 The gigantic USS ABSD-1 enjoyed a somewhat chequered, but active career. In various iterations, her sections were decommissioned, divided, put in reserve, scrapped, reused and recommissioned a number of times in Hawaii, Guam and the Philippines. Six sections went on to be utilised during the Korean War before being towed to the Philippines in 1970 where the floating dry dock – somewhat smaller than her original size – was placed back in service. Section by section AFDB-1 was decommissioned over a number of years with the last remaining section, Section C, reclassified as a miscellaneous vessel on March 2, 1998, ending over 40 years of continuous service – in one form or another – with the US Navy.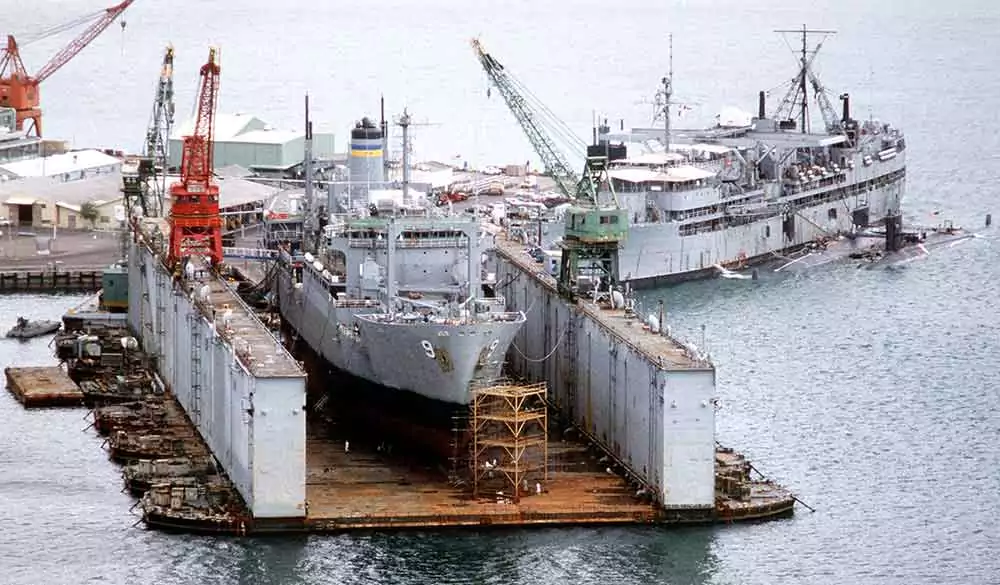 USS ABSD-1
Facts at a glance
Displacement: 38,500 tons (in ten sections)
Length: 927 feet (283m) (in ten sections)
Beam: 256 feet 0 in (78.03m)
Height: 9 feet (2.7m) flooded, 78 feet (24m) floated
Capacity: 90,000 tons lift
Complement: 690 officers and men
Armament: None
Your contribution will help us create a lasting legacy for the people of Vanuatu.