Captain Elwood Joseph Euart
An Undeniable Act Of Self Sacrifice
Born in Pawtucket, Rhode Island on 28 January 1914, Elwood was the eldest of seven children born to William and Ellen Euart. As a youngster, Elwood attended local schools in Pawtucket before entering Rhode Island State College (RISC) in September 1935. College life was quite obviously a diverse one for Elwood becoming a member of the college track team, president of the Aggie Club, member of Scabbard and Blade, Vice President of Rho Iota Kappa Fraternity and Treasurer of the senior class. His military career began with his participation in the U.S. Army ROTC program where he was ultimately commissioned a Second Lieutenant in the Field Artillery upon his graduation in June 1939, majoring in Agriculture.
On October 6, 1942, Captain Elwood J. Euart, with elements of the 43rd Infantry Division, set sail from San Francisco, for New Hebrides on the SS President Coolidge. Following the establishment of the military bases on Santo, the harbour was heavily protected by mines. However, the location of the mines had been omitted from the Coolidge's sailing orders.
Approaching the island of Espiritu Santo on 26 October 1942, the Coolidge, entered the harbour through the largest and most obvious channel. Unfortunately the ship struck a mine which exploded next to the engine room and moments later it struck a second mine nearer to her stern.
Fearing the ship would sink, the captain, ran her aground and ordered troops to abandon ship. Over the course of the next 90 minutes, 4,998 men got safely disembarked the wreck and made it to shore as it sat precariously on a coral reef. But when Elwood learned that a group of men were trapped below decks in the ship's infirmary, he led a rescue party to save them. Tying a rope around his waist, he had himself lowered down into the now seriously listing ship via a sea door. The remaining men were able to scramble up the rope that Elwood held the end of, deep in the ship's interior. However, as the last of them made it to safety, the ship began to roll and slip towards the deep shipping channel.
With arms aching and energy spent, Elwood was unable to rescue himself and make it up the rope before the Coolidge sank, taking his life with it.
For Extraordinary Heroism in Action, Captain Elwood Joseph Euart was awarded the Distinguished Service Cross – the second-highest award for valor in America – in addition to the Purple Heart and the Rhode Island Cross (Posthumously).
The citation for Captain Euart's Distinguished Service Cross
The Distinguished Service Cross (Posthumously) is awarded to Captain Elwood J. Euart, Field Artillery, United States Army for extraordinary heroism in connection with military operations against an armed enemy while serving with the 103d Field Artillery Battalion. 43d Infantry Division, in action against enemy forces on 26 October 1942. Captain Euart lost his life after helping to save a number of other men at the time of the sinking of the U.S. Army Transport PRESIDENT COOLIDGE. Learning of a group of soldiers trapped in the infirmary of the ship, he reentered the sinking ship to assist the trapped men.
By lashing himself to the lower end of a rope, he was able to hold it tight enough for the men to climb to safety, even though the ship was listing badly. When he finally attempted to climb the rope himself, it was hanging almost vertically. As he climbed, the ship careened and sank. Captain Euart's intrepid actions, personal bravery and zealous devotion to duty at the cost of his life, exemplify the highest traditions of the military forces of the United States and reflect great credit upon himself, the 43d Infantry Division, and the United States Army.
Captain Euart was a son of Rhode Island who answered the call to service during World War II and gave his life saving other soldiers. He was a Boy Scout for six years in Troop 602. The troop was renamed the Captain Elwood J. Euart Troop, and a Sea Scout ship was named after him. In New Zealand, Camp Euart was named after him; In New Hebrides, Euart Passage is named after him; and in Espiritu Santo, Euart Airfield is named after him. In his home town of Pawtucket, Rhode Island, the Elwood J. Euart VFW Post 602 is named in his honor. He is a heroic member of the "Greatest Generation."
Though unmarried, Elwood was survived by six siblings: Rita, Monica, John, Eleanor, Leonard, and Ruth, all now deceased. Today he is survived by eleven nieces and nephews:
Elwood Vallee of East Wakefield, New Hampshire
Sister Sharon Euart, RSM, of Silver Spring, Maryland
John Gallagher of East Blue Hill, Maine
Linda Euart Kelleher and John F. Euart, Jr. of Atlanta, Georgia
Elizabeth Badger of Morrisonville, New York
Elwood J. Euart II of Irving, Texas
Paul Vallee of Bethel, Vermont
Leonard Euart of North Dartmouth, Massachusetts
Charles Vallee of Oneida, New York
Michelle Wise of Greer, South Carolina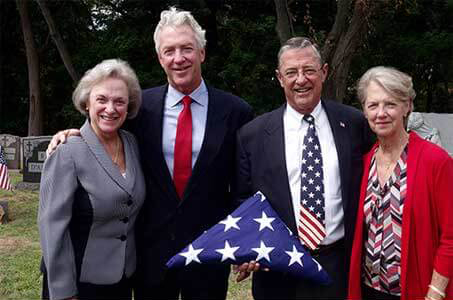 Captain Euart's nieces and nephews: (L-R) Sister of Mercy Sharon Euart, Woody and John F Euart and Linda Euart Kelleher, hold the flag that was draped over Captain Euart's coffin at St. Francis Cemetery, Pawtucket, Rhode Island.
Captain Euart Returns home
In August 1948, a search team from the U.S. Army's 604th Quartermaster Graves Registration Company visited Santo to investigate and recover personnel from a number of sites, including the Coolidge, but due to the depth of the ship Captain Euart's remains were deemed non-recoverable.
However, after 70 years resting in around 50 metres of water on board the wreck of the Coolidge, the remains of Captain Elwood J Euart were finally recovered by salvage divers from the US Defense POW/MIA Accounting Agency (DPAA). Following their discovery in 2012 by Rex Moli, a local guide from Allan Power Dive Tours, contact was made with the Australian High Commission in Port Vila who relayed the discovery to the US Embassy in Papua New Guinea and then to DPAA in Hawaii.
Following the discovery of remains in 2012, a JPAC underwater recovery leader accompanied a tour company diver and possible human remains were pulled out of the silt. And it was this dive that led to the commencement of recovery operations three years later.
In March 2015 a large American team flew into Santo from Hawaii on massive USAF cargo aircraft bringing specialist dive equipment with them. After an operation lasting a week involving DPAA, together with Allan Power Dive Tours, Santo Island Dive and other local businesses, additional remains and material evidence from the ship was brought to the surface. It was sent to Hawaii for DNA testing to conclusively confirm the identify as that of Captain Euart.
His remains were placed in a coffin and he was given the send off befitting a soldier who paid the ultimate price for his heroism, with a full 'ramp ceremony' at Santo-Pekoa International Airport prior to his repatriation home to the United States.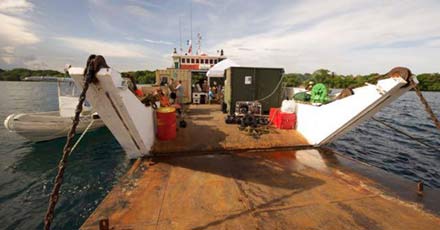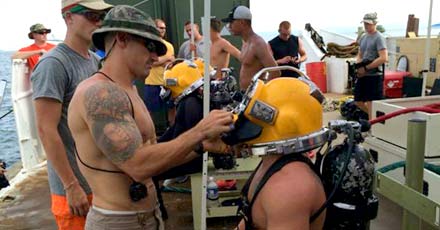 Captain Elwood J Euart of the 103rd Field Artillery, 43rd Infantry Division was finally returned home and laid to rest next to his parents, the late Mr Elwood Francis Aloysius and the late Mrs Winifred Casey Euart at the St. Francis Cemetery in Pawtucket, Rhode Island following a service accorded full military honours.
Your contribution will help us create a lasting legacy for the people of Vanuatu.