The SS President Coolidge was a luxury ocean liner that was converted to a troop transport ship during World War II. Upon reaching Espiritu Santo on October 26, 1942, the Coolidge hit a mine that exploded next to the ship's engine room and seconds later a second mine exploded near her stern. The Captain of the Coolidge, deliberately ran her aground before the ship began to sink.
All of the 5,240 troops made it safely ashore, however the Coolidge was still in grave danger of being lost. Not long after she ran aground, she listed heavily and was in danger of slipping into the shipping channel. Captain Elwood J Euart of 103rd Field Artillery Regiment, heard that there were men still trapped below decks. Euart returned to the ship and successfully rescued the men. However, by the time it was his turn to get out, he didn't have the strength to pull himself out and he went down with the ship.
Captain Elwood J Euart's memory lives on and has become the namesake of the association bringing the South Pacific World War II Museum to life. A page dedicated to Captain Euart can be found here. While more information regarding the the Coolidge can be found here.
If you'd like to see where this gallery location fits into the bigger picture of life on Espiritu Santo during World War II, we've created an interactive map page. There you'll find a Google Map of the south east corner of Santo with as many locations as possible marked out for you to explore. Clicking on the image will take you there.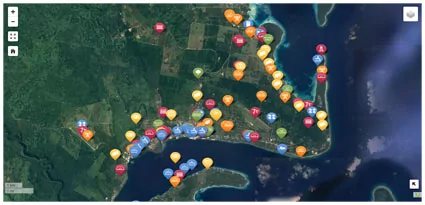 With your assistance, we can create one of the world's great museums.