USS ABSD-1 Floating Dry Dock
The USS ABSD-1 was a non-powered naval vessel designed to be deployed, with relative speed, to combat zones for ship repair operations, thus saving the time necessary to transport a damaged ship back to the continental United States.
Built between 1942 and 1943 in ten separate sections by various shipyards in the United States, ABSD-1 was commissioned at Everett, Washington on May 10, 1943 before being towed section by section to Espiritu Santo between July and October. Fully operational by late that year, it remained on station until mid-April 1945.
If you'd like to see where this gallery location fits into the bigger picture of life on Espiritu Santo during World War II, we've created an interactive map page. There you'll find a Google Map of the south east corner of Santo with as many locations as possible marked out for you to explore. Clicking on the image will take you there.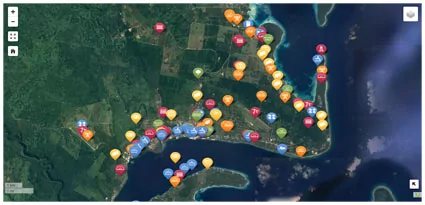 With your assistance, we can create one of the world's great museums.