The 25th Evacuation Hospital
The following information about the 25th Evacuation Hospital is taken from the sailing journal of 'Captain Bob' on board the SV Lexington that passed through Vanuatu in July 2017. His sister-in-law sent this information to him, about her father, Howard Dorton, who helped set up the 25th Evac Hospital on Santo.
The 25th Evacuation Hospital was created utilising physicians from the West Suburban Hospital, Chicago. Departing from Port Vila, the 25th landed in Surendu Bay, Espiritu Santo on Nov. 29, 1942. The 25th Evacuation Hospital was a team of nurses, enlisted men, and 37 physicians. The unit was assigned to set up a hospital four miles from bomber strip #1 via the jungle and chopped down trees near their tents. The ship carrying all the supplies for the hospital failed to arrive due to risk of Japanese bombing, however a hospital had to be built and capable of treating 750 patients. 
They scavenged and scrounged, board by board, planks and 2×4's, corrugated metal and begged, borrowed and procured from the Navy already scarce tools, nails, saws, mosquito netting, medical supplies and instruments. In the sweltering jungle doctors, enlisted men, and natives worked side by side digging post holes, hauling cement, laying flooring, weaving palm fronds for rooftops, built cabinets, shelving, and furniture and slowly erected the hospital structures–mess hall, wards, makeshift showers, latrines, and their quarters–pyramidals on stilts.
Quonset huts back to back served as the O.R., lab and x-ray. Casualties came in for months from Guadalcanal, Rabaul, and Munda–sometimes 100 to 200 a day with burns, macerations, shattered limbs, gas gangrene, and massive orthopaedic wounds required reconstructive surgery. Most were ill with blackwater fever, hepatitis, dengue, and malaria. The team laboured long hours day and night doing the easier shrapnel surgeries last. Penicillin was not available then, and without quinine, atabrine was used to treat malaria.
In 1989 the U.S. Senate honoured the 25th by presenting a plaque to West Suburban Hospital recognising the supreme sacrifice of the physicians of the 25th Evacuation Hospital. It still hangs there today. No physical evidence marks the site of the hospital on Santo, however, the South Pacific World War II Museum encompassing the Luganville area may show the history of Buttons, the massive military and support base there, and Million Dollar Point.
If you'd like to see where this gallery location fits into the bigger picture of life on Espiritu Santo during World War II, we've created an interactive map page. There you'll find a Google Map of the south east corner of Santo with as many locations as possible marked out for you to explore. Clicking on the image will take you there.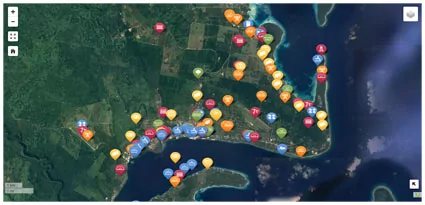 With your assistance, we can create one of the world's great museums.